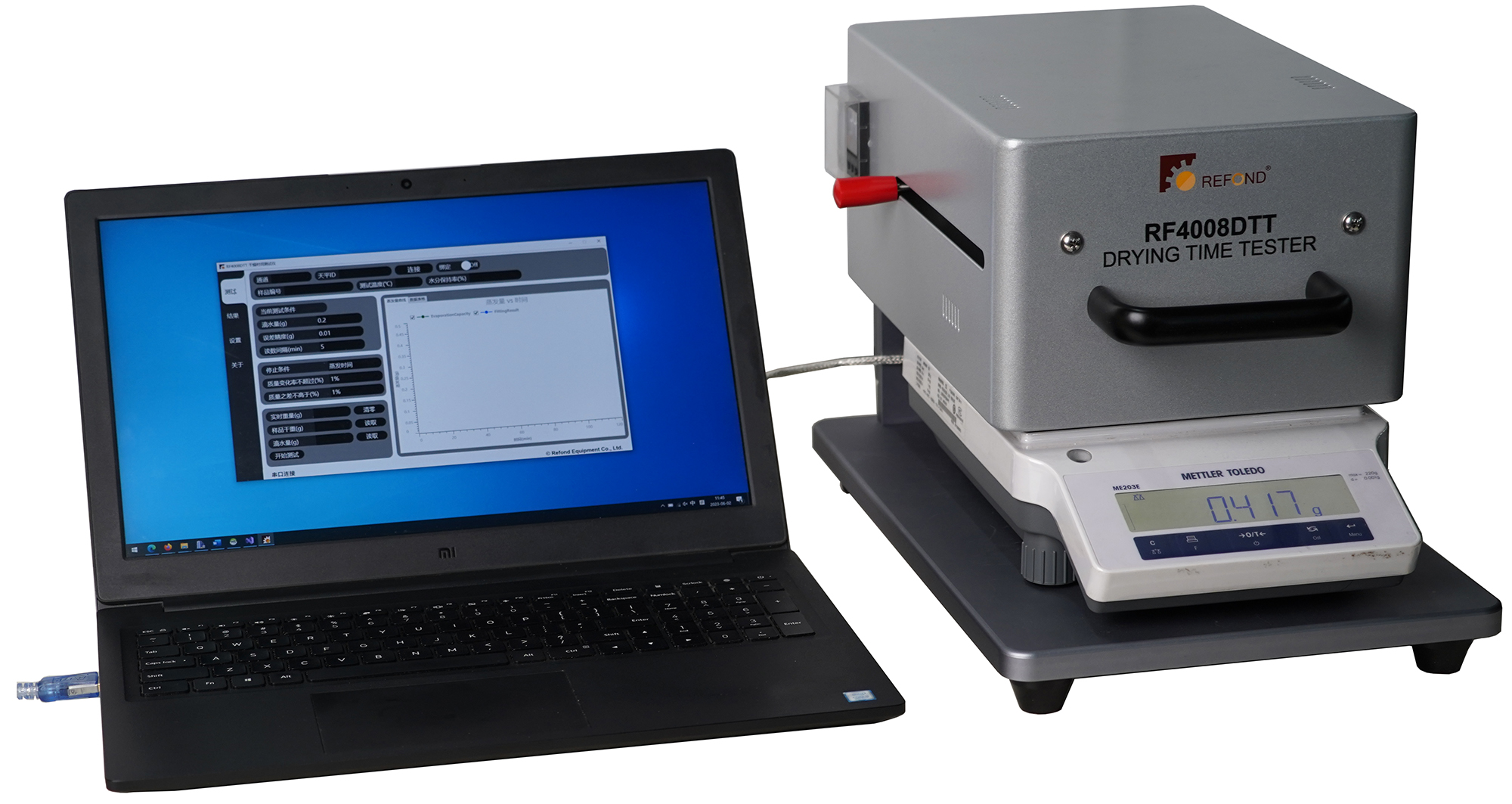 Drying Time Tester (Moisture Analyzer Method) is intended to evaluate the drying time of knit, woven and nonwoven fabrics at an elevated temperature using a gravimetric moisture analyzer. It is used to simulate drying at body temperature or to perform testing at temperatures that simulate conditions of use.
RF4008DTT contains a special designed PC software, moisture analyzer (high precision digital balance, temperature- controlled testing chamber), online monitoring the weight of the fabric which had been added a specified amount of water, analyze the dry time of the tested fabrics.
Test Scope:knit, woven and nonwoven fabrics.
Testing Standards:AATCC199, etc.
Specification:
1. One computer can connect max. 6 moisture analyzers simultaneously.
2. Moisture Analyzer: Contains Digital Balance and Temperature-controlled Testing Chamber.
3. Chamber temperature controlled independently by heaters and temperature controller.
4. Temperature Accuracy: 37℃±0.5℃. Other temperature points can be set.
5. Digital balance accuracy: 0.001g.
6. Connection: USB to RS232 cable.
7. Vertical Hanging Specimen Rack for Moisture Retention test.
8. Tray: for picking up of water during water retention test.
9. Specimen Support Platform:
10. Wire Screen: 0.25 x 0.25in. mesh.
11. Electronic motorized pipette with speed setting.
12. PC software:
a) Test interface: data, curves and tables.
b) Drying times are calculated automatically.
c) Test Report: Microsoft Excel, PDF format, automatically saved.
13. Test Stop Conditions:
4.1 By Dry Percentage:
4.1.1 Determine the stop condition by comparing the difference of the nearby two data (weight) whether it is less than a certain percentage (1% to 10% is selectable).
4.1.2 Data Reading Interval: 1 minute to 10 minutes is selectable.
4.1.3 The difference of the weight between the total mass of specimen and the original mass is not higher than a certain percentage (1% to 10% is selectable)
4.2 By Residue Moisture Content Percentage: stop the test when the residue moisture meets a certain percentage (1% to 10% is selectable).
14. Specimen dry weight is always displaying on the screen.
15. Original data can be exported for analysis.
Order Information:
RF4008DTT Drying Time Tester
RF4008DTT/1 Drying Time Tester Software
RF4008DTT/2 Moisture Analyzer
RF4008DTT/3 Vertical Hanging Specimen Rack (for Moisture Retention Tester)
RF4008DTT/4 Tray
RF4008DTT/5 Timer
RF4008DTT/6 Wire Screen
RF4008DTT/7 Specimen Platform
RF4008DTT/8 Electronic Motorized Pipette
RF4008/1 3 digit Mettler Digital Balance (Resolution:0.001g)
RF4008/3 Computer
RF4008/6 USB Cable
RF4008/7 USB Hub (with 7 USB ports)
RF7120 Sample Cutter with Diameter 70mm Cutting Die