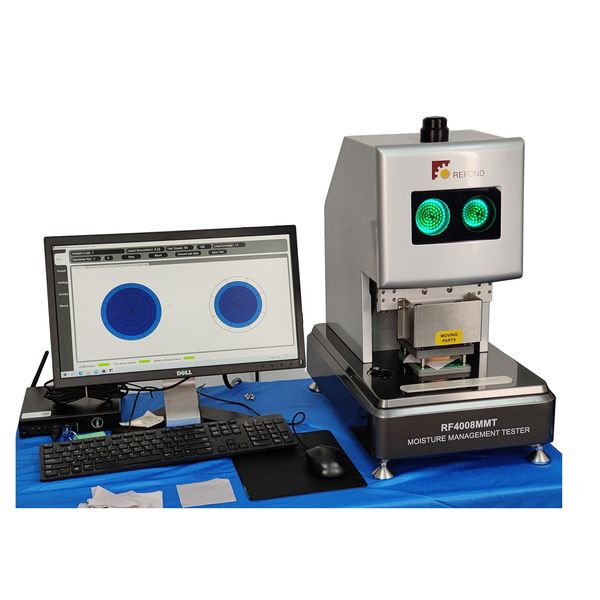 Moisture Management Tester (MMT) is designed to measure dynamic liquid transport properties of fabrics.
The RF4008MMT consists of upper and lower concentric measurement sensors. The method is to hold the specimen between the two concentric moisture sensors and introduce standard test solution to the top surface of the specimen. The electrical resistance changes between the upper and lower sensors and the rings. Then the data will be recorded dynamically by the PC software.
Test Scope:Knit and woven fabrics or quick-absorption-and-quick-drying fabrics.
Testing Standards:AATCC195, GB/T21655.2 etc.
Specification:
1. Test Solution Apply:0.03-0.45ml selectable.
2. Test Solution Applying Accuracy:± 0.003ml.
3. Test Time can be set;
4. Loading Weight:1.0kg, 1.5kg, 2.0kg selectable.
5. Improved test sensors for better conductivity and correlation test result.
6. Dynamic Water Spreading Chart is displayed.
7. Grading Modes: GB, AATCC grading method.
8. Result Cross-check function.
9. PC Software: Automatic display test result and curves, print and save test report.
10. The report can be exported to Microsoft Excel or PDF format.
11. Interface: USB Cable.
12. The following parameters or indexes are to be tested:
a) Overall Moisture Management Capacity.
b) Accumulative One-Way Transport Capacity.
c) Wetting Time for top and bottom surfaces.
d) Absorption Rate for top and bottom surfaces.
e) Max Wetted Radius for top and bottom surfaces.
f) Spreading Speed for top and bottom surfaces.
Order Information:
RF4008MMT Moisture Spreading Tester