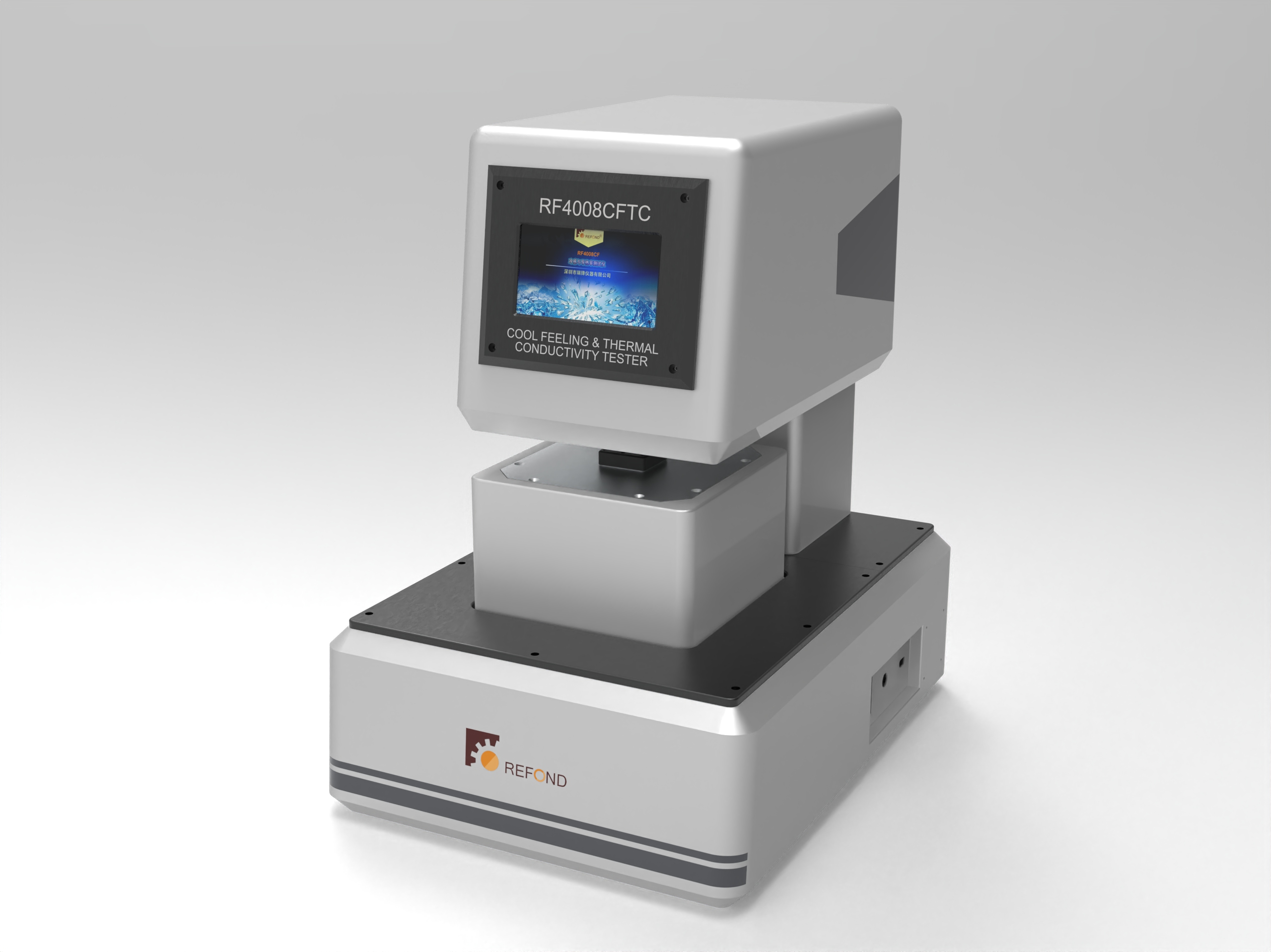 Cooling Feeling Tester,measures the instant cool feeling and thermal conductivity as the sample contact with human skin.
Cool Feeling Test: Specimen is put onto a flat temperature controlled platform (or flat foam board) and waiting for equilibrium. The cool feeling test head has a copper plate which can store energy (heat). The test head which has been heated by another heating plate is lift and put onto the top surface of the specimen immediately, then measure the Max. heat transfer rate (Qmax) from the cool feeling test head to the specimen.
Thermal Conductivity Test: Specimen is put onto a flat heating platform (constant temperature) and waiting for equilibrium. The heating platform always maintains constant temperature. The thermal conductivity test head is put onto the top surface of the specimen and maintain a determined temperature difference with the heating platform. Measure the thermal conductivity of the specimen.
Test Scope: Textile fabrics, Leather, Cosmetics, Automotive Interior, Medical Products, etc.
Testing Standards:GB/T35263,FTTS-FA-019,JIS L1927
Specification:
1. Temperature Range for Cool Feeling Test Heating Base: 25-45ºC ± 0.1 ºC
2. Temperature measurement range for Cool Feeling Test Head: 25-45ºC ± 0.1 ºC
3. Temperature range for thermal conductivity test head: 25-45ºC ± 0.1 ºC
4. Temperature Range for Steel Plate:15-25ºC ± 0.1 ºC
5. Temperature Accuracy: ± 0.01 ºC
6. Cool Feeling Test Area:30mm x 30mm
7. Specimen Size: 100mm x 100mm, Max. 200mm x 200mm. Max. Thickness: 2mm
8. Thermal Conductivity Test Head:50mm x 50mm
9. Heat Loss Measurement Range: Max. 10W
10. 7" Touchscreen and PLC control.
11. Working Station:Single Working Station, Two Testing Modes
12. Working Station:
a) Steel Plate:15-25ºC ± 0.1 ºC,for FTTS-FA-019
b) Reference Foam Pad: room temperature, for GB/T35263,JIS L1927
13. Temperature Control:Both automatically for test head and working station (working table)
14. Touchscreen Control and Display
15. PC software displays test data and curves and can print test report.
16. Report can be exported to Excel and PDF format
17. Both test heads (for cool feeling and thermal conductivity test) move automatically, no human interface.
18. Working Station (test platform) moves up and down automatically, to reduce the moving time of the test head, thus to reduce the effect from outside.
19. Delta T can be set automatically according to the room temperature, thus to ensure the repeatability and reliability of the test results.
20. Power:AC 230V,50Hz/60Hz
Order Information:
RF4008CFTC Cool Feeling Tester
RF4008CF/1 Foam Board