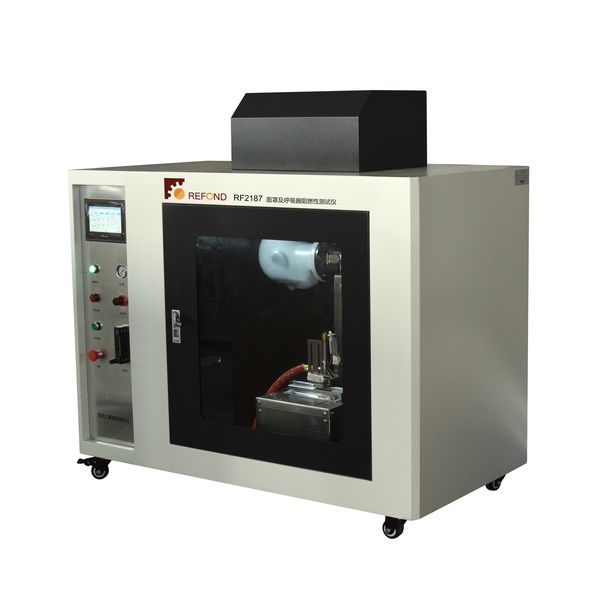 Face Masks and Respirators Flammability tester is a test equipment for the flame resistance of masks and respirators。
Install the tested sample on the metal head mold, light the burner, adjust the flame height, make the flame height at the top of the burner reach 40 ± 4mm,
and make the flame temperature at 20 ± 5mm from the top of the burner reach 800 ± 5 ℃. Start the motion control device of the metal head mold,
make the head mold move at a linear speed of 60 ± 5mm / s, and observe the burning of the mask material when the test sample passes over the flame.
RF2187 flammability tester, metal head controllable linear velocity, adjustable flame height and flame temperature display.
Testing Scope: Face Masks and Respirators.
Testing Standards:
| | | | | |
| --- | --- | --- | --- | --- |
| GB 2626 | GB 19083 | YY 0469 | EN 136 | EN 149 |
Specifications:
1. Burner: propane burner;
2. The vertical distance between the top of the burner and the bottom of the mask is 20 ± 2mm (the height of the head can be adjusted);
3. The linear velocity of nose tip movement is 60 ± 5mm / S;
4. Flame height 40 ± 4mm (adjustable);
5. The flame temperature is adjustable (the flame temperature at 20 ± 2mm from the top of the burner is 800 ± 50 ℃), measurable and displayable;
6. The continuous and smoldering time can be recorded;
Ordering Information:
RF2187 Face Masks and Respirators Flammability Tester