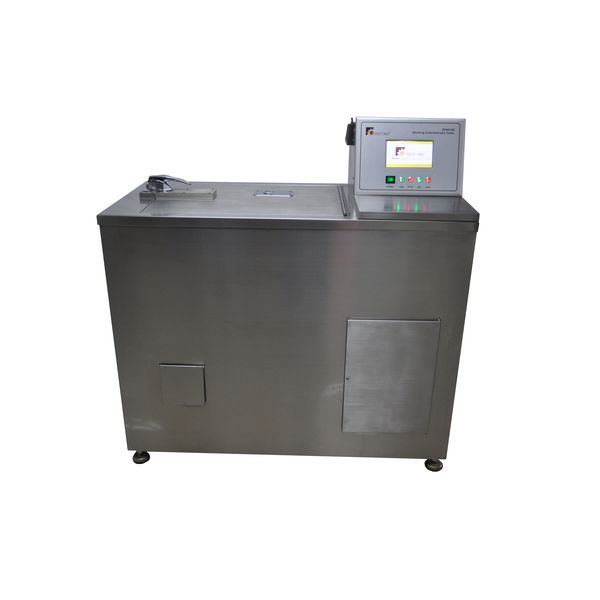 Washing Colorfastness Tester may use to determine the colorfastness test of washing, dyeing, drying clean and bleach detergent.
Product Advantages:
1. Touchscreen operation, testing methods build in, easy operation.
2. Automatic water inlet and draining, fully automated.
3. Over temperature protection, safety door protection, lower water level protection, multiple protection for safe operation.
4. High power of 12000W 3 phase
5. Temperature rising rate can be set.
Specifications:
1. Specimen rack rotation speed:40±2rpm
2. Temperature range: Room Temp. to 97ºC
3. Temperature accuracy: ± 0.5ºC
4. Rate of temperature rise: 1.2 ºC/min - 2ºC/min can be set.
5. Internal materials: Stainless Steel 316L
6. Safety Device: Safety door switch, Over-temperature protector, Low water level protection.
7. Automatic Water Inlet and Draining.
8. 20 units of 550mL containers
9. 20 units of 1200mL containers
10. Touchscreen Control: 32 testing programs built in,24 blank customer programs
11. Gas Spring Supporting Device:easy open of the chamber door, more safety.
12. 380V 3phase power supply
13. Max. heating power: 12000W
Consumables:

Test Standards:

AATCC 28, AATCC 61, AATCC 132, AATCC 151, AATCC 190, AATCC 212, BS 1006-C01, BS 1006-C02, BS 1006-C03, BS 1006-C04, BS 1006-C05, ISO 105-C01, ISO 105-C02, ISO 105-C03, ISO 105-C04, ISO 105-C05, ISO 105-C06/C08/D01, M&S C4, M&S C5, M&S C10A, M&S P3B, FTMS 191-5610, NEXT TM2, NEXT TM 3, NEXT TM 5, GB/T 5711, GB/T 3921
Order information:
RF6018EH Washing Colorfastness Tester
RF6018/1 550mL container (with gasket 1 piece)
RF6018/2 1200mL container (with gasket 1 piece)
RF6018/3 Stainless Steel Ball (100 piece/pack)
RF6018/4 Stainless Steel Disc (25 piece/pack)
RF6018/5 550mL Container's Gasket (8 piece/pack)
RF6018/6 1200mL Container's Gasket (8 piece/pack)
RF6018/7 Rubber Ball (Dia. 9.5mm) (100pcs/pack)
RF6018/8 Teflon Sheets (for 500ml containers) (20pcs/pack)
RF6018/9 Teflon Sheets (for 1200ml containers) (20pcs/pack)