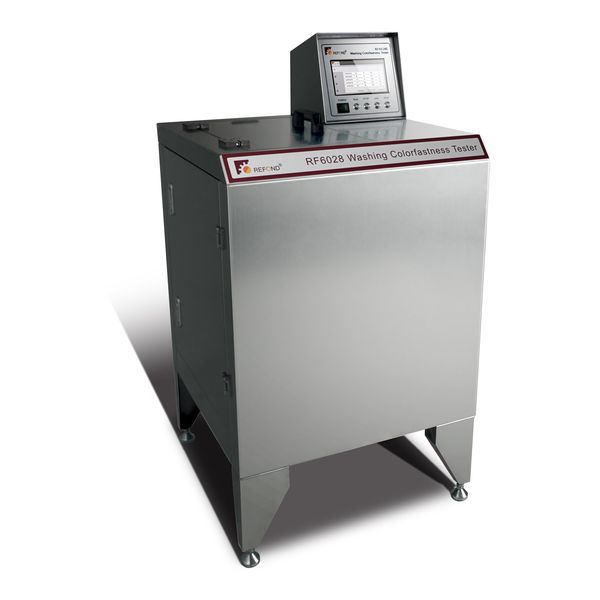 Washing Colorfastness Tester may use to determine the colorfastness test of washing, dyeing, drying clean and bleach detergent.
Test Standards:
AATCC 28, AATCC 61, AATCC 132, AATCC 151, AATCC 190, AATCC 212, BS 1006-C01, BS 1006-C02, BS 1006-C03, BS 1006-C04, BS 1006-C05, ISO 105-C01, ISO 105-C02, ISO 105-C03, ISO 105-C04, ISO 105-C05, ISO 105-C06/C08/D01, M&S C4, M&S C5, M&S C10A, M&S P3B, FTMS 191-5610, NEXT TM2, NEXT TM 3, NEXT TM 5, GB/T 5711, GB/T 3921
Specifications:
1. Specimen rack rotation speed:40±2rpm
2. Temperature range: Room Temp. to 97?C
3. Temperature accuracy: ± 0.5?C
4. Rate of temperature rise: Max. 2?C/min
5. Internal materials: Stainless Steel 316L
6. Safety Device: Safety door switch, Over-temperature protector, Low water level protection.
7. Automatic Water Inlet and Draining.
8. 8 units of 550mL containers
9. 8 units of 1200mL containers
10. Touchscreen Control: 32 testing programs built in,24 blank customer programs
Order information:
RF6028E Washing Colorfastness Tester (Small capacity)
RF6028/1 550mL container (with gasket 2 piece)
RF6028/2 1200mL container (with gasket 2 piece)
RF6028/3 Stainless Steel Ball (100 piece/pack)
RF6028/4 Stainless Steel Disc (25 piece/pack)
RF6028/5 550mL Container's Gasket (8 piece/pack)
RF6028/6 1200mL Container's Gasket (8 piece/pack)
RF6028/7 Rubber Ball (Dia. 9.5mm) (100pcs/pack)
RF6028/8 Teflon Sheets (for 550ml containers) (20pcs/pack)