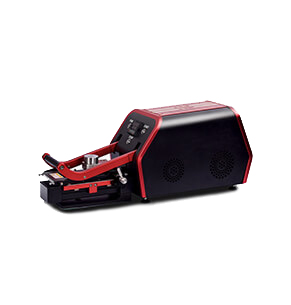 Crockmeter determines the color fastness of textiles to dry or wet rubbing.
1. Equipped with 16mm diameter test finger (Optional 19mm x 25.4mm rectangle test head)
2. Electronic counter, can be set to max 9999.
3. Testing load: 9N±0.1N
4. Crocking stroke length: 104mm±3mm
5. New design sample holder:

a) No need to cut specimen
b) Press-to-lock mechanism, rapidly, easily, and firmly holds specimen
c) With the help of rear holder, highly elastic specimens can be stretched during clamping
d) Suspended sample holder, sleeves or trousers can be tested without cutting.
e) Slider design, dry and wet test can be done one after the other without reloading specimen

f) Spring-loaded pressing mechanism, self-adapted to specimen of different thickness.

g) Automatic lifting mechanism, easy changing of white crocking cloth.
Test Scope:
Used for testing fabric dry and wet rubbing fastness
Testing Standards:
AATCC 8、AATCC 165、ASTM F1319
ISO 105 D02、ISO 105 X12、JIS L0849
M&S C8、M&S C8A、GB/T 3920
Ordering Information:
RF3176N Electronic Crockmeter
RF3172/1 Test Finger 16mm diameter
RF3172/2 Sandpaper (25pcs/pack)
RF3172/7 19mm x 25.4mm rectangle Test Head